Visiting Singapore felt like it did whenever I watch a movie a week before it's going to be pulled out—better late than never. I've always wanted to visit it but feared that (1) it's too expensive and that (2) it's really too expensive. Having no relatives in Singapore and feeling shy to accept friends' offers, I decided to proceed with a budget hotel and a DIY 3N/4D trip. Thanks Mon for helping refine my anything-goes, jaywalk-prone itinerary.

The ingredients just fell on my lap, ready for cooking. I had a long weekend, I have a travel voucher, and most of all I'm getting bored of the same surroundings. Also, parents wanted to celebrate 2016 New Year in Singapore so I thought about visiting it this year to check if we can make it on our own, without any arranged tours.

I only had two weeks to prepare so I gave my travel agent days of sleepless nights for tickets that would suit my cheapskate budget. She relentlessly flooded me with emails of flight quotations every…single…day. In the end, we locked down on a connecting flight via Cathay Pacific in Hong Kong. Another thing crossed out of my firsts (experiencing a connecting flight), with best regards and love in Christ.


6 hrs later, I'll find myself finally stepping foot inside Changi airport. I was immediately floored (literally and figuratively) by the awesomeness. After all, it's the top-rated airport all over the planet. I was actually thinking if I'm already in the airport or just passing by a mall/hotel.
After taking it all in and some photos as incognito as possible (because I didn't want to look like I almost wanted to kiss the carpet), I managed to exchange my pocket money and buy a SIM card inside the airport. I got lucky to be within Singtel's promo period so my 15 SGD SIM card also came with free 100 GB mobile data. Needless to say, I was like eff yeah internet forever!
When I finally calmed down and relaxed my eyes to its regular un-bulging state, I went ahead and searched for the MRT station connecting the airport to the rest of Singapore and texted friends that I made it alive. I initially thought about taking a cab to my hotel, but decided to embrace my turista mode by roughing it out in the subway…which is actually a smooth ride.
Where to Stay
I initially booked at The Pod, but cancelled when I realized being in a mixed dorm may not be such a good idea. The Pod is a famous capsule hotel in Singapore that got me intrigued with its pictures and online reviews. I've been fond of pod-like accommodations here in Taiwan, because of their uniqueness and price. Despite shared access to toilet, bath, and other things, the ones I've been to are all cozy and clean.

I also make sure I stay in female-only dorm pods only. So I chickened out last minute with The Pod when I realized I made the mistake of booking a mixed-dorm pod. Nope, must cancel. Taking a bath will be awkward.

Fortunately, I was able to spot a good price at Kam Leng Hotel for a 3-nights stay. I chose the hotel because of its interesting history and design. It was a renovated hotel which retained its old hustle and bustle, accented by Singapore's Peranakan design.


I've got no complaints with the hotel whatsoever. The housekeeper on my floor was shy but nice and the front desk people are very polite. When I lost my keycard and worried that I might get fined for it, the guy behind the desk just ended up asking for my room number and gave me another card without any other questions. I was like,
ohfckfckfck i wonder how much i'll pay
in my head while the guy was like, "408? here" and hands the new keycard like I simply asked for a calling card.
If you want to stay here, I'll warn you that it's pretty far from Farrer MRT station. You'd need to at least take a bus going to your destination, if you want to skip walking for 15 minutes to the MRT.
As Modern as Modern Gets

As I rode the MRT to the airport, my mind can't help but compare 2 other countries with what I'm seeing at that time. Singapore felt like the newer version of Taipei and the future that the Philippines can hope to be. I can't help it, really. From the airport to the MRT to the cleanliness to the people, and the hot humid weather, I can't help but feel like jeez, I hope I'm still alive when the Philippines finally cleans up its government and catches up to this kind of development.

I also noticed that all buildings seemed to be new. It's like there's an endless bout of construction going on and I suspect buildings must have an expiration date. In a way, it can be annoying especially if your hotel is near one. Good thing I was out most of the day so the construction just a few blocks fronting my hotel didn't bother me so much.

But anywhere else, Singapore is an impressively modern garden city that didn't limit architectural creativity. I think my parents would love seeing all these structures too.


My favorite, of course, is the Marina Bay Area. It's just friggin amazing, day and night. You just have to capture a panorama photo of the place at least once in your life because, wow. WOW. And even though the Esplanade theaters reminded me of durians and the MBS itself was like a surfboard placed on top of tree stumps, I still find it all quite amazing. Even the commercial buildings contribute to the spectacular view. Also, the river doesn't smell even just one bit. Reminds me a lot of how Taipei managed to make the most out of the Keelung river.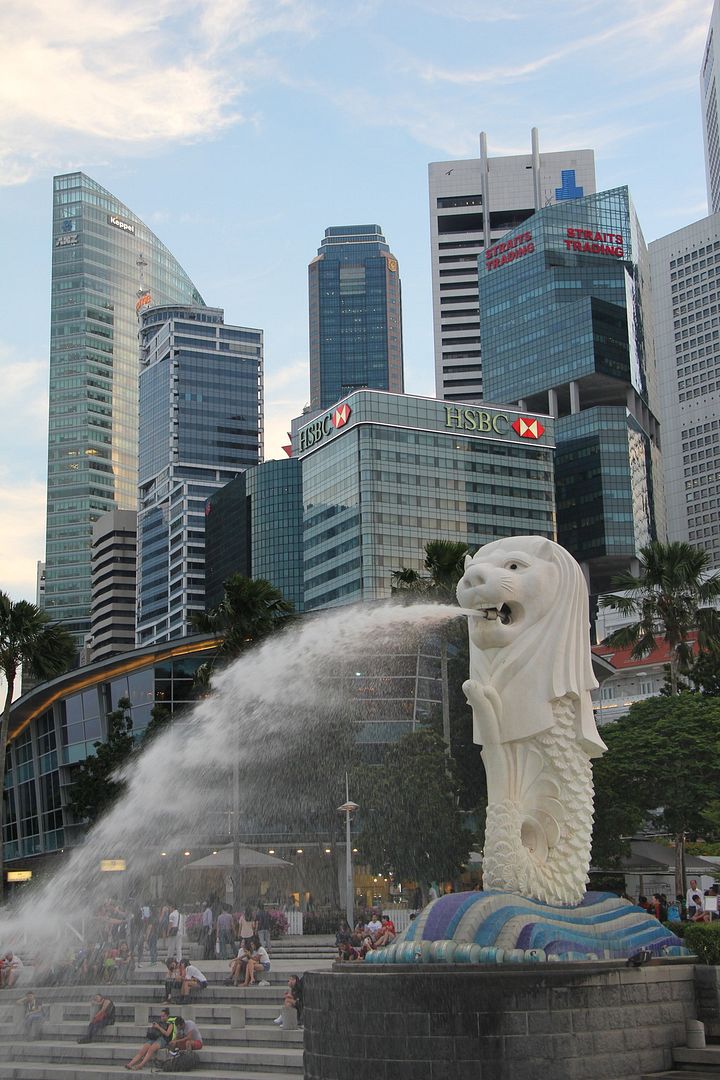 Speaking of rivers, Clark Quay area reminded me a lot of Bitan lake in Xindian, only more commercialized and modern.
Xindian's sidewalk
When I got back to Taipei, I told my friend I'm back to steamed veggies and I'm not really looking forward to it. Hehe. When I learned that Singapore is a melting pot of culture, I didn't really expect it's gonna be equally amazing when it comes to food. I mean, I'm from the Philippines and it's in the same region as Singapore so…what could be different? Well, practically everything. With the exception of Chinese cuisine (which is embedded in PH and TW cuisines too), everything else were so tastefully unique. BECAUSE SPICES!!! Now I get why folks conquered other folks for packs or kegs or whatever (insert measurement here) of curry et al.
Eating has been one of my concerns in this trip haha. BUT thanks to my friends, I didn't have such a hard time finding the best places to try. Also, I got pretty much ALL THE FOOD I WANTED TO TRY, but of course there's still much to try next time like chili crabs and cereal prawns. After eating that chicken rice, I'm now an elitist prick when it comes to checking out the chicken rice varieties here in Taipei.
So difficult to look at this photo when you're hungry 🙁
,
When that chicken rice made me praise God for birthing the person who discovered ginger as a condiment, I knew I found one of the food loves of my life. Also, food stalls have ENGLISH TEXT! I almost wanted to cry in happiness haha.
And of course, Singapore is where my tastebuds said Mabuhay! to this again…
To be continued…because the author has officially broken down and slid dramatically by the wall out of longing and hunger.