The Fulong beach was just the beginning of the Golden Fulong route. If you ever find yourself in the same place, I suggest you venture further and take time to know the spots you will pass along the way.
Within Fulong itself, you can bike around and explore the area. Haven't done this yet, but I am planning to go back to Fulong this year to do just that. In the meantime, I simply decided to check out the beach then proceed. Straight from the Fulong beach, I went to the Information Center which is just a few minutes walk away and also has a lovely mini museum inside that I think kids will appreciate.




The reason why I went to the Information Center is because of the Tour Taiwan bus stop. From here, I'd be riding this good 'ol tour bus to check out the many other sights that I marked along the Golden Fulong route.




On weekends and holidays, the buses supposedly arrive at 30-minute intervals. The ticket costs 50 NTD and already entitles you to freely hop on and hop off the bus at the designated stops.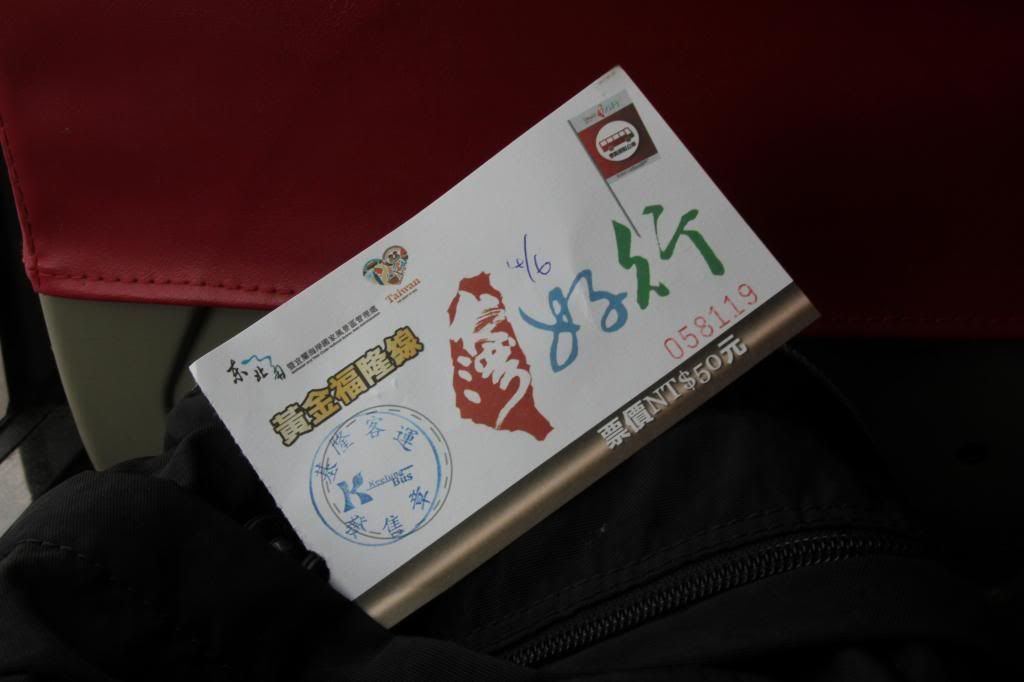 After Fulong beach, my next stop was the Longdong Bay Ocean Park. Going there from Fulong took about 40 minutes but you know what, IT WAS A VISUAL FEAST! I just have to say that in all caps because it truly is. I am so sorry I lost the phone where I captured its visual glory–the oceanscape on your right side, green mountains and hills on your left side.

Fortunately, here are some visuals I managed to take from my camera before I realized the still will never do justice to the view.



When I finally got to Longdong Bay Ocean Park, I just couldn't believe that the experience would be so much better. As I took in the scenery of the ocean, mountains, and the road the snakes in between these two Nature's gift, I felt so good to be alive and well…you'd say I'm cheesy…but I felt so blessed to be there to see it all. It's the same euphoria I felt when I first discovered Dadaocheng wharf through biking. It's just…out-of-this-world.



The Longdong Bay Ocean Park is an open area that's got a cafe. Entrance is free and you can explore it and the abalone farm that's just beside it. However, it was too windy when I was there so I didn't really brave its every nook and cranny. Besides, I got so captivated by the visual feat I just had to stand there, take everything in and let my mind relax like it never has for so long.




After Longdong Bay Ocean Park, I decided to move along to Bitou. Unfortunately, I missed the stop so I just decided to head straight on to Shuinandong.



However, after passing Bitou, I noticed that the bus eventually started to ascend some sort of mountain road. It gave me a glimpse of what lies ahead and based from what I saw, I felt a bit hesitant to go down now. I'm a little beat already from all the walking and exploring that I'm not sure if I can hike up at that point. Since it's my first time to take on the route, I'm not sure if it will be a wise decision to go down and explore it on foot given that we're now traversing the mountains.




Thought I ditched plans of viewing Shuinandong and the Gold Ecological Park, the trip up the mountains ended up being thrilling experience too. Since I got a window seat, all I have to do is glimpse at my right side to check out how scary and wonderful the rest of the trip will be.



When we finally reached Ruifang, I remember being very thankful to God for allowing me to live to tell the tale.




I reached Ruifang station at around 5PM already so I decided to quickly get on the next train to Taipei.




From this experience, I realized that the Golden Fulong route demands two days' worth or if you really want to check all of its tourist spots. Or maybe stay overnight in Fulong and conquer all in two days. A day is just not enough because the distance between each place is a bit far.

I'm thinking of revisiting this route to check out the stops I haven't seen yet. But for now, I am officially stamping the Golden Fulong route as CONQUERED! ^_^




For more information on the Golden Fulong route and its bus stops, you may visit the Golden Fulong Route website