For all the techie-ness that I've come to believe equals Taipei, I felt a bit frustrated that it didn't have any eReaders such as the Kobo or even the popular Kindle. I combed through NOVA mall and Guanghua Digital Plaza for nothing. At one point, I entered a shop that sold tablets, laptops, and other mobile accessories, only to be told a bit mockingly "Why would you want an eReader? It's not colored." 

I went home disappointed, with awful ingrown pain.

Anyway, I needed an eReader. The reason is that I commute 30 minutes one-way, going to and from work, every day. The MRT ride is starting to get unnerving, doing nothing but listening to music. Bringing books is something I do, but the books would take up too much space in my bag that I figured I needed something less bulky. 

Reading up on eReaders made me excited about the prospect of its supposed battery power, plus ability to store thousands of eBooks, within a portable lightweight device. 

It uses electronic ink with lights inside the bezels, instead of backlights directly behind an LCD screen, to help you read for hours minus the eye strain. But on the down side, Internet surfing is limited and it displays in black and white only. 



Another eReader option would be tablets. But I've never wanted one because, personally, a laptop-mobile-phone combo is enough for me. To me, a tablet is an in-between device that bridges those two. 

Choked up and ate all those thoughts though, as I found myself buying an iPad Mini Retina. I bit the Apple for the 3rd time and this time, I had mixed feelings about it.

The Contenders

Buying a tablet was initially unplanned. It was a tough decision to make because I had to justify the purchase. From the overwhelming number of choices, these were the options I considered before making a final decision:

Surface 2 – This sleek Windows 8.1 laptop/tablet hybrid is a real-looker in person. It is lightweight and the keyboard has been drastically improved from its rubbery and seemingly unreliable predecessor. However, my issue with this is that my main computer runs Mavericks. If I get a tablet, it should be a bridge between Android and Mavericks. Windows 8.1 might complicate things. AND I don't want to get an Anti-virus bloatware, thanksverymuch. 



Nexus 7 or an ASUS MeMo Pad – I was very tempted to get a KiKat-powered device, much more a Zen UI tablet (ehem). That would be great for my Android phone. But then, how often would I use the tablet together with my phone? The answer is: rarely to no need. 

It would have been a great thing to own, considering the cheap prices of branded tablets here plus the fact that Google Play Store is an app powerhouse. But the Mavericks-Android OS connection I currently experience with my MacBook Pro and Xperia are kinda complicated already. So, rethink choices I must.



iPad – The force is strong in this one. Why? Because I realized that a tablet would rely more on my computer usage rather than my mobile phone usage. In my case, the MBP is still a bit heavy to travel around with, but it is sleeker and more practical to use everyday than an ordinary desktop computer. 



An iPad can become an instant netbook with the addition of a Bluetooth keyboard. Mavericks is the older brother of lil bro iOS. the iPad-Macbook Pro combo is very appealing to me. I can take advantage of iCloud, discover Air Drop, and basically just explore how powerful Apple truly is on the software department. 

And if there's any device that fully gets a functional blessing from Retina technology, it's the iPad. Aside from looking great, the Retina is the main reason why iPads needed that powerful A7 chipset.

First Impressions

So in the end, I went for the iPad Mini Retina due to the following reasons:

It's got Retina to help me get through hours of reading and I truly need an eReader.

It can double as a netbook (according to online reviews), with the addition of a wireless keyboard, and still wouldn't be too bulky inside my shoulder bag. I wanted to experience iOS 7 and see if it's worth it.It is unbelievably cheaper here in Taiwan compared to the Philippines AND I find it more amazing than the iPad Air, seriously (in short, I want to add it in my gadget collection).

The visual aspects are outstanding. It is literally a pretty little thing. As expected, the build is solid and even the sales guy told me there's no need for a screen protector. True enough, wiping it with tissue is enough. But I would strongly advise you to get a microfiber cloth or portable cleaning wipes made for delicate gadget surfaces such as lens and screens. I've also got no problems with screen glare, perhaps due to all the fingerprints. Hehe.




The Moshi VersaCover I got worked perfectly with it too, waking it up from sleep mode whenever I open the cover, and automatically lulling it to sleep when I put the cover back on. The origami support provided by Moshi is creatively functional I just love it to bits.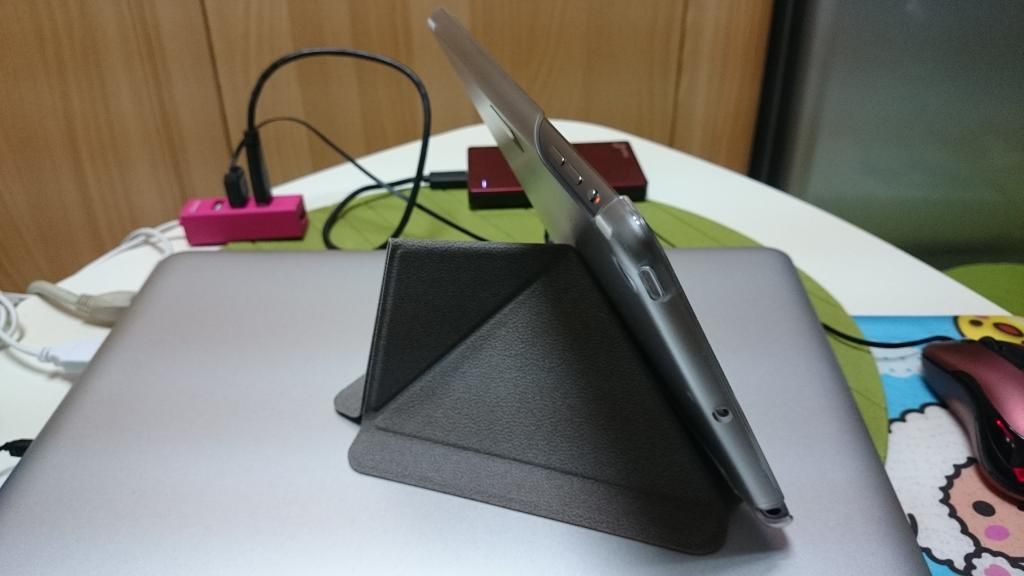 You can also conventionally fold it behind the iPad and it'll stick on the back, thanks to its magnets! The velvety texture helps you grip the device more safely while holding it. < The Retina screen is also amazing. I can easily spend hours and hours on it, hypnotized with the screen's clarity and the fluid transitions. However, I'm a bit concerned with the home button. I've gotten used to onscreen buttons that are touch-enabled. The constant physical pressing on the iPad's home button is a little awkward for me. I keep on thinking I should apply as little pressure as possible to keep it from getting loose, eventually. Based from what I read on the Apple site, you're supposed to at least charge it to 100% then drain it completely once a month to keep a status check on its battery life. The battery life is still at 20%, starting from around 90% yesternight. I turned it off for about 6 hours but given my heavy usage yesterday (internet surfing, reading an ebook, syncing with MacBook Pro, watching videos) I expected it'll be around 10% by now. I think it's gonna be alive and kicking well until midnight tonight, even on standby mode. So far, so good regarding its battery life. In terms of portability, the iPad Mini Retina fit my expectations. I found that the screen size is just about enough for browsing and reading. The weight isn't too heavy for my liking, even if I hold on to it and read for hours. It also fits just fine inside my shoulder bag and my little go-to satchel bag. 
Hands-On Experience with iOS 7

Now, the clincher. Aside from Retina, my high expectations on iPad rests on its popular iOS 7. Since I started the device, I only did one upgrade and it currently runs on an iOS 7.1.2 version. I had some trouble activating it at first because of slow internet, but eventually managed to get in when I switched to using mobile data That was never an issue for me, using an Android OS. You can continue even without Internet, without heavy prompting on how important it is. 

Before owning an iPad, I've never used iOS except for the few times I played Temple Run in an Apple reseller shop here in Taipei. I expected no learning curve whatsoever. After all, my first use of Mac OS (Mountain Lion, Ver. 10.7) was very user-friendly, coming from a lifetime of Windows. Hallelujah sung by a choir echoed through my ears as I realized how fricking easy and logical Macs were compared to a Windows PC. 

iOS is the contender for Android OS. Judging from that Mac experience, I expected the choir to be back on their feet, singing their sweet chorus as I let the Retina screen put me on a touch gesture trance. DIDN'T HAPPEN. As I swiped through, pressed the home button, pinched in and out, and all that jazz, I remember getting increasingly dissatisfied with iOS and wistfully looking at my Android-powered Xperia.

What's wrong, you might ask? Yeah sure, Retina and its flat icons were a great combo. But when I looked further beneath it all, I saw an entirely different thing. iOS 7 had the features I saw on Android and were hardly better than it. One thing I loved about Android was how fluid and consistent it was to use regardless of the device's brand. 

In my experience, I toyed Android on Sony, ASUS, Samsung, even a MyPhone. I used Android-powered All-in-One PCs, laptops, and tablets. The only difference I noted as I switched between these devices is the screen size. Lags and all that would hardly be noticeable, it's somehow expected since chipsets are going to be different per device. But the overall look and feel was retained. I didn't have to feel my way through. And don't get me started on Android-Windows compatibility. It's unexpectedly good.

As an added revelation, I realized that when I used a Chromebook, I also didn't have to feel my way through too much. Everything looked familiar because the functions were what I used to see when I tinkered with my Chrome browser. I even remembered being impressed with the Chrome browser after using a Chromebook because the browser is THAT powerful. The UI, though admittedly closer to a Windows environment, was also easy to understand. It's tempting to say that they simply copied Windows but if you used Linux, you will rethink that assumption.

Back to iOS. The Settings was the compartment for everything technical that a user could control on their iPad. Unfortunately, it's also the most dissatisfying aspect of iOS for me.

I found its capabilities lacking. What if I want to check my RAM usage? What if I want to change my viewing mode to bigger app icons? Can I create folders for documents, music, book files? How do I know which apps use too much memory?

Overall, my experience so far with the Settings was messy. It seems simple but not really. It's in your face but reminded me of the way Windows piled their applications on top of the other when you open the Programs folder. Though the options in Settings were categorized using a space between each group, each group was confusing to me. Apps were just seemingly placed beneath Privacy, for the sake of it. 

Then came the grand question: how do I synchronise this with my devices? Bluetooth connection was a mess between my Xperia and iPad Mini Retina. So there goes any chances of linking them. I suddenly regretted the fact that iPads only have a thunderbolt port for wired connectivity. Air Drop didn't work between my MacBook Pro and iPad Mini Retina either. In the end, iTunes saved the night. That and iCloud, which gave me 5GB worth of storage. 

Google Drive gave me 15 GB of free storage, though. 

I was also a bit peeved that I cannot watch some online video streams. Flash seemed to work limitedly or not at all on iOS 7. Is there any plug-in that I have to install for this? On MacBook Pro, it ain't a problem. Also, I struggled with auto-correct while chatting on FB Messenger. It was funny but I suspect it wouldn't be if it lasted for more than 3 minutes. Good thing the feature can be disabled.




All in all, it was a slow messy start between me and my iPad and I find it ironic given how easy it was supposed to be used right off the box. Or maybe, I've been expecting too much on the technicalities. People raved about it online, saying it replaced their MacBook Pros for some tasks. Though I didn't really expect to be able to use Dreamweaver or Photoshop on the iPad, I didn't expect it to be so…basic. Too basic, I think, it doesn't give too much bang for your buck in that aspect. 

For all you iPhone fanboys and fangirls out there, I strongly advice you to get any of these phones and get blown away with the Android KitKat experience coupled with powerful hardware specs: Xperia Z2, HTC One M8, Samsung S5, LG G3, and ASUS ZenFone (Zen UI is a very fluid tweak on Android OS). And as icing topped with walnuts on the cake, Android can run smoothly and file-share no problemo with Windows and a Mac OS. 

Verdict? Android OS still wins for me. There's just too many features that iOS 7 didn't give me. It reminded me of my previous iPod experience and that's not a good thing, it's regressive. If iOS 8 would be better, I might get an iPhone but until such thing happens (and I would know now when I upgrade this tablet to iOS) I'll stick with my Android mobile guns.

Should You Get One Too?

All things considered, I'm still happy with my iPad Mini Retina. Though I'm stuck with iBooks app, I'm okay with it too because it accommodates epub files and also syncs smoothly via iTunes. 

On top of that, I'm excited to try how powerful this iPad can be if used with an external keyboard. 

So, should you buy an iPad Mini Retina? I would recommend it if you need a bridge device between a phone and a laptop/desktop, AND BOTH OR ONE of them is an Apple product. Or at the very least, either device can run iTunes. Otherwise, forget syncing or bridging. You'll end up using the iPad as an independent device and will likely love it anyway for the mesmerizing Retina feature coupled with iOS' appearance.

For me, the iPad Mini Retina is a portable visual treat fit for basic tasks and its screen size is just right. It's speedy, mostly because Retina relies on that powerful A7 chipset for it to work. But keep in mind that high-end chipsets also eat up more power. Given that, the iPad Mini Retina is very useful for internet browsing, as an eReader alternative especially for colored prints such as comics and magazines, for watching movie files (though online video streaming is limited), and basic gaming with its powerful visuals and good audio output. 

The lack of external storage capability is a downside as with the limited port connectivity. Before you purchase one, you have to think through 16GB, 32GB, 64GB, and 128GB thoroughly and balance it with the price. Good thing I got mine in Taipei, it's cheaper here than in Philippines.

If you are a power user looking for a potential netbook or laptop replacement without splurging on a MacBook, you will be better off using another brand. Or better yet, just keep on saving until you have enough to get yourself a proper MacBook laptop. Otherwise, you might like the iPad Mini Retina for its portability, but you will likely splurge on the 64 GB and 128 GB to make the most out of it.

As for me, I'm content with my 32GB iPad Mini Retina. It delivered on the aspects that I expected it to excel in: physical build and screen resolution. However, it also delivered on the aspects that I expected it to be underwhelming: iOS 7. Given these, would I still buy an eReader if I get the chance? Nope…unless I get to sell this iPad Mini Retina first. 😀