One of the most underrated tourist activities here in Taipei is hiking. When I first came to the island, I was very surprised to see how the capital is an organic blend of nature and urban landscapes. I have never seen mountains as closely positioned to buildings as they do here in Taipei. While Hong Kong does have the same thing, I still think Taipei is more picturesque and a more complex organic mix. 

If you want to try hiking but feel a bit intimidated, I suggest you try going up the Elephant Mountain. It's the easiest trail I've tried so far and I suppose the number of toddlers and preschoolers you will find hiking the same trail with you is enough of a boost for your unsure self.

Aside from experiencing hiking in Taipei, I also suggest Elephant Mountain as a free and breathtaking way of seeing the towering confidence of Taipei 101 amidst the entire city. It's been two years but I haven't tried the Taipei 101 trip yet simply because I think it's too expensive and not that worth it. Yeah, even if it means I will get to see that tuned mass damper.

But before you go on a hiking trip, make sure you're prepared and ready for it by bringing these items apart from your valuables:

Bring in light snacks and at least 600ml of water. – You don't really need to eat heavily during the hike nor drink too much water. The last thing you want is trouble finding the nearest restroom. What's important is that you keep yourself hydrated every 30 minutes and also eat snacks by way of biscuits or energy bars.

Wear rubber shoes – I know comfort's a relative thing but I still suggest rubber shoes for any hike. You never know what kind of trail you'll find and while sandals can be quite comfortable too, they may not provide the full protection your feet will need in unforeseen situations.

Wear dry-fit clothes – You will sweat while hiking so it's best to get dressed in something that easily dries. While cotton is good, it tends to absorb sweat so chances are it'll dry against your skin during the hike. Meanwhile, dry-fit clothes tend to air dry much faster and are also made of lighter materials meant for outdoor activities.

Bring a sweater or parka. – Despite the summer heat, peaks can get very windy and cold. Also, a sweater or parka would be able to deflect some of the sun's rays while on a hike.

Sunscreen – Whether it's winter or summer, you need sunscreen for protection. The tricky thing about hiking on other seasons than summer is that you hardly feel the heat from the sun because of the weather's temperature. But that doesn't mean you don't get exposed to as much UV rays as you do in blistering summer days.

Accessorize by way of shades and a cap – These accessories wouldn't only add to your fashionista look but would also serve an important purpose—to protect you from the sun and your head from other possible harsh elements. 

Going to Elephant Mountain

To get to the Elephant Mountain, ride the MRT red line going to Xiangshan MRT station. From the Xiangshan MRT station, take Exit 2 and find the posts that have directions going to the Xiangshan hiking trail.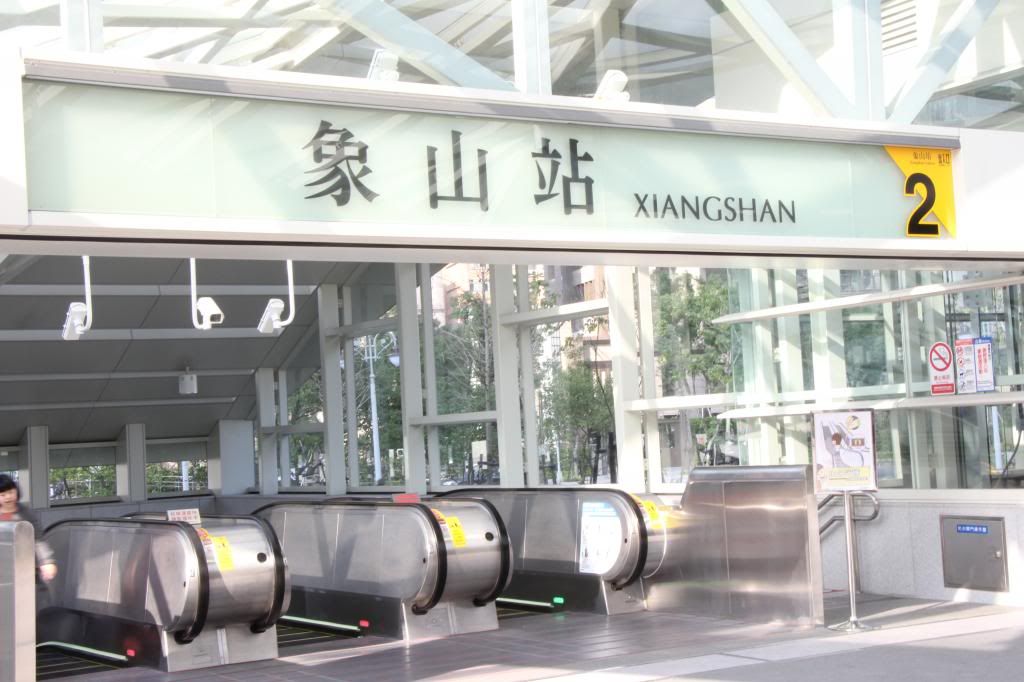 You will be coming from the direction of the black scooter on the left side of this photo when you walk from Exit 2. So from that red fire hydrant, turn left and go straight uphill towards the Xiangshan trail.




At the end of that uphill path, you will find this post on the right side. Turn right then straight ahead until you see the Lions Club marker in the next photo in this post.

What to See

As mentioned, the Elephant Mountain is popular among locals for the impressive view it provides of Taipei 101 against the city's backdrop. I think this is a good visual representation of how Taipei actually looks like.
 


The trail took me around 50 minutes to hike up and that's because I haven't been biking or hiking for almost two months now. Surprisingly, it only took me 15 minutes to go down from the peak. So if you're not a newbie climber/hiker, this trail can be done under an hour. 




Going up is made easy because the trail comes with stone steps that are very stable to walk on. Also, there are several spots on the way up where you'd find resting areas and even some chairs where you can recollect your sweaty self or have a chat with companions. 




But whenever you take a stop, make sure you look back and check out the view you'll find increasingly becoming more and more visible with every step.




Somewhere along the trail, you will find a plateau on the trail and a wide open space. 




Take time to check out what's on the left side of that path because you will surely be in for a visual treat.




Enjoy it but don't settle. There's more to the path than this right here. Actually, this is just a teaser. What lies at the peak of Elephant Mountain is more breathtaking. So just carry on and continue the climb.




Folks from all ages would most probably be hiking with you. If you go there on a weekday, you might not catch the same number of tourists I did that Saturday during the Chinese New Year break.

You know you've reached the peak once you see these stones.




And looking back, the hike up is definitely all worth it.




I went here last Chinese New Year and as expected, there were a lot of visitors. I'm lucky enough to have snapped some photos but I doubt I can have a proper one against the backdrop of Taipei that time.



This tourist destination is good for a half-day trip. After visiting the Elephant Mountain, I think you'll have enough energy to go exploring other sights within Taipei. I highly suggest that you try visiting this place because this is how you enjoy Taipei like a local–you hike and marvel at the beauty that was originally known as Formosa.




As for me, snacking on these goodies is the perfect way to cap off this hike!